Welcome to the Segneshütte!
The UNESCO World Heritage Site Tectonic Arena Sardona is located in the border area of the three cantons Graubünden, Glarus and St. Gallen. Nowhere else are the testimonies of mountain building so clearly visible as here. The Sardona Tectonic Arena was included in the UNESCO World Heritage List in 2008 as one of only 197 World Heritage Sites worldwide.
The Segneshütte, one of the oldest mountain huts in the region at an altitude of 2,100 metres above sea level, is located in the middle of the Sardona Tectonic Arena on the lower Segnesboden. From the sun terrace you can admire the "Glarner Hauptüberschiebung" with the "Tschingelhörner" and the "Martinsloch". On the other side of the valley there is a beautiful view of the Flimserstein, from which the great alpine landslide came down about 10'000 years ago.
The Segnesteam is looking forward to your visit!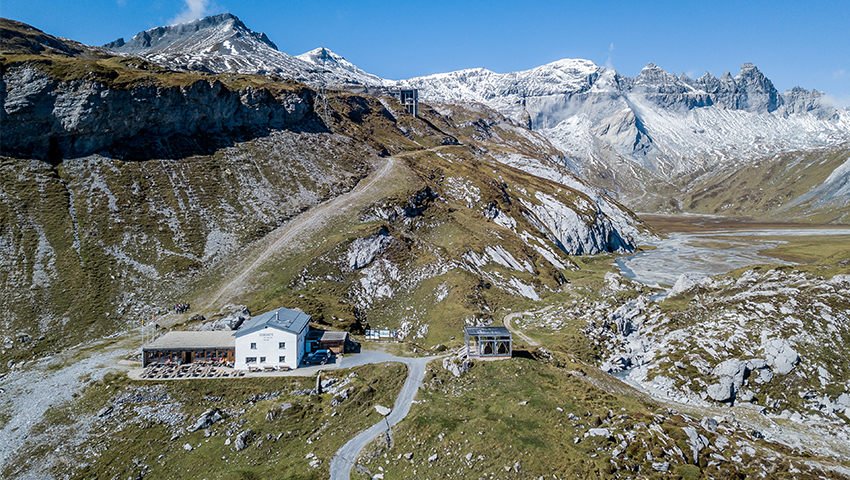 Opening hours
We look forward to welcoming you as soon as the snow situation permits, from 26 June at the latest.
HONEST AND DIRECT LIKE HUNGER. AS PURE AS OUR MOUNTAINS.
LAAX ALWAYS TASTY stands for high quality and contemporary gastronomy, as colourful and diverse as our guests. We are tangibly connected to the region. Our forward-looking actions with regard to sustainability (Greenstyle), digitalisation and healthstyle set groundbreaking standards – in over 30 establishments, in mountain and valley.

Stay overnight – on 2'100 Meters!
In summer 2016 the Segneshütte was extensively renovated and has since shone in a new look.
The well-known dormitory was explicitly omitted – now you will stay in double, three- and four-bed rooms with shower/WC on the same floor.
Double Rooms
Adults
CHF 105.00
Children (8 – 12 years)
CHF 90.00
Children (0 – 7 years)
CHF 50.00
Multi-Bed Rooms
Adults
CHF 95.00
Children (8 – 12 years)
CHF 90.00
Children (0 – 7 years)
CHF 50.00
Book now
Send your booking request now via e-mail: segnes@laax.com
or give us a call: +41 81 927 99 25
Above mentioned prices are per person and night including half board (excl. guest taxes).
Please note that the rooms can only be booked with half board.
Cancellation terms and conditions
Rooms can be cancelled free of charge up to 8 days before arrival.
After that we will charge you 50% of the total amount.
Our safety measures
The health and safety of our guests and of our employees is of utmost importance to us. Therefore, all regulations applied by the Federal Office of Public Health are consistently implemented in compliance with their strict guidelines.
If you have symptoms of illness prior to your stay that indicate a respiratory disease, we therefore ask you to forego your stay. Please contact us if symptoms of illness occur during or after your stay.
Site Map
Please note that the Segneshütte is only accessible on foot. You can reach us either via the Naraus mountain station with a simple hike of about 75 minutes. Otherwise you have the possibility to take the Nagens Shuttle to Alp Nagens and then have a walk of about 45 minutes.